Many gaming experts understand the importance of playing games with friends or family. With multiplayer or coop games, it becomes easier to battle against enemies as a team. So, the fun adds up as a result, and the whole game takes you to a new level of challenges and excitement.
That is the reason Nintendo switch coop games are one of the biggest reasons you buy Nintendo games. Therefore, out of many coop and multiplayer games, we have listed some of the best coop games for you.
1. Mario Kart 8 Deluxe
Mario kart eight deluxe is one of the incredible Mario games in the series. It is the best co-op game you can ever play with friends or family. It allows you to choose from the number of characters. You need to unlock 14 of these characters, however.
Upon its release, the game was so well-received by the fans. Additionally, it has intuitive gameplay with incredible graphics. It has added many new DLC courses and more options for battle mode. It is one of the best Mario games in the series. On top of all, it features an in-game guide to help you with various techniques, a battle mode, and about functions of every item.
2. Super Mario Party
Super Mario party is the perfect game that brings lots of fun. It contains 20-plus playable characters, which is sure to make the game engaging. However, there are several minigames that you can play.
Mario Party for the Nintendo Switch features a classic game mode that is fun and competitive. Up to four players can take turns independently navigating the game board, facing off against their opponents in minigames, collecting coins and stars, and working their way to victory.
Now you can play it with friends or family for unlimited fun. The fans well received the game; it was the completed refresh of the franchise and brought back many gameplay elements from the series with some new additions.
3. Minecraft Nintendo Switch Edition
Minecraft Nintendo Switch edition is one of the incredible Nintendo games. In this game, the players can explore randomly generated worlds, creating and building anything they can imagine.
Every creation is unique, from simple homes to grand castles. Minecraft provides players with various tools, resources, and crafting options.
4. Capcom BeatEm Up Bundle
The capcom beat them bundle is an incredible game you can play on the Nintendo Switch platform. It is famous for its comprehensive collection of seven classic games that provide hours of entertainment, with various multiplayer options, online capabilities, and detailed galleries.
Moreover, each title is available in English and Japanese version. , the game is addictive, enjoyable, and a must-have game for gamers.
5. Killer Queen Black (Switch)
In Killer Queen Black Switch, up to eight players can play either online or locally. The game features a total of six various battlefields where you can play. Moreover, it includes four different types of weapons: sword, morning star, laser, and stinge.
It is fast, reactive, and easy to learn. However, mastering the game may be more challenging than you think. Whether you want to fly solo or team up with friends is up to you.
6. Streets of Rage 4
Streets of Rage 4 is the latest installment in the classic side-scrolling brawler from publisher Dotemu. It offers top-tier co-op brawling and gorgeous hand-drawn visuals. In the game, there are a total of four heroes. Each hero has unique abilities, and every one of them comes with various unique comes. Moreover, the player must fight through the wood oak city and its many inhabitants. It is a must-have game for fans of adventurous and action games.
7. Super Smash Bros Ultimate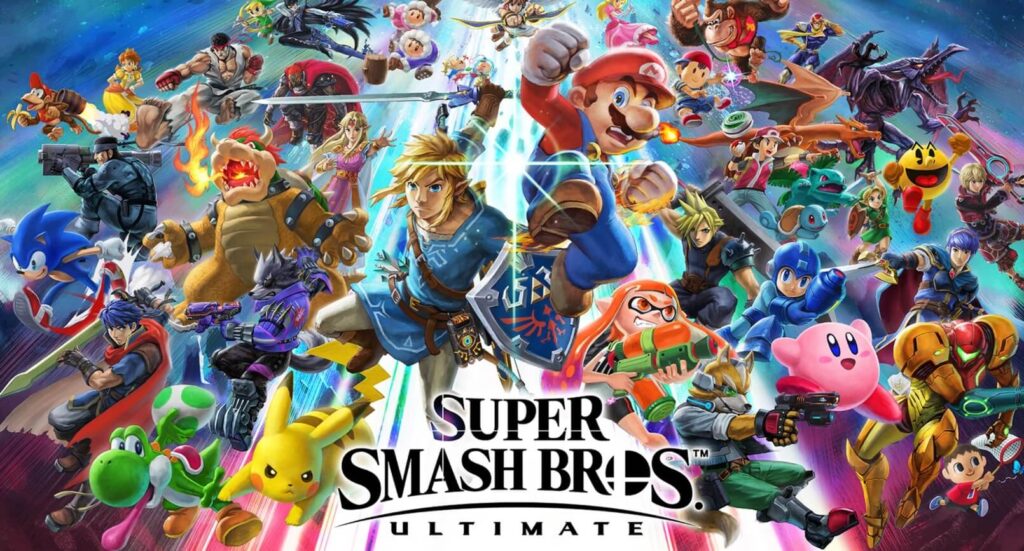 Super Smash Bros. Ultimate is the definitive edition of the Smash Bros. franchise and a must-have title for Nintendo Switch owners. Boasting the most extensive roster in the series' history, Ultimate features every character from past titles and new fighters and stages.
Super Smash Bros. Ultimate is an ideal game to introduce younger players to gaming. In addition, one can enjoy a range of game modes and online play. Other than that, the game features vibrant visuals, tight controls, and exciting gameplay. If you want to play multiplayer games, look no further than Ultimate.
8. Arms
If you are searching for the most accessible Nintendo switch games, look no further than this masterpiece. It comes with two Joy-Cons in each hand; players can flail until one defeats the other.
The game is interesting as it allows players to gain a competitive edge with its simple mechanics. However, it features various characters and stages to keep you engaged and active. There is no other better multiplayer game that both kids and adults can enjoy. So, Arms is worth your attention and time.
9. Among us
Among us was developed by innerSloth and has gained much popularity since its release. You suspect your friends are working against you as the game layers a party-style formula with palpable tension. In addition, you will experience colorful visuals and exciting gameplay. Plus, the game features easy-to-understand mechanics. Because of the incredible features and gameplay, this game has become a go-to for anyone looking for an exciting Nintendo Switch game.
10. Switch sports
Enhance your gaming experience by playing this incredible Nintendo switch game. It is the perfect game featuring six unique and kinetic motion-controlled games.
Shortly, this game has a wise collection of sports games for everyone. From Soccer to Volleyball, Bowling to Tennis, Badminton to Chambara Swordplay, these games can get you moving with their Joy-Con controllers. Using a TV-docked Nintendo Switch while playing is recommended, but the game is still fun even when played in handheld mode. With so many options available, there will surely be a game for anyone who loves sports.
Final Remarks
Hence, you are not necessarily alone when it comes to playing games. Nintendo switch games is a list of coop games that allows you to make your gaming experience more memorable. You can play with friends or family to forget all your worries.